Mopar Service in ROSEVILLE
Hours:
Mon - Fri : 7:00 AM - 5:00 PM
Dealership Amenities
Mopar provides authentic OEM parts for your Chrysler, Dodge, FIAT, Jeep, RAM or SRT vehicle. We also offer OEM accessories and performance parts for your vehicle to make sure it's customized to your heart's desire.
Certified Technicians
Free WiFi
Goodyear Tires
We Offer Mopar Accessories
We Offer Mopar Performance Parts
Spanish Speaking
Express Lube
Chrysler, Dodge, Jeep, RAM Service in Roseville, MN
At Jeff Belzer Roseville Chrysler, Dodge, Jeep, and Ram (CDJR), we know that keeping your vehicle in top shape is important. You need a service department that takes care of all the details. We want you to have the peace of mind that every inch of your car enjoys the attention it deserves when you book a service at our dealership.
You're welcome to schedule your repair or service and drop your vehicle off before you head to work, or you can stay in our comfortable waiting area, which is equipped with Wi-Fi. We are a full-service maintenance and repair facility that can perform anything from an oil change to a full engine overhaul.
Know Who You're Dealing With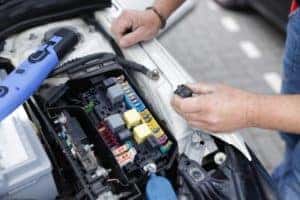 The customer comes first, and we have the award to prove it, as we've received the prestigious Customer First Service Excellence Award. We also enjoy sterling reviews and testimonials from our client base, so be sure to check those out.
A Comprehensive Service Option
It's important to schedule regular services for your car. Our service center is fully outfitted to perform basic services to extensive repairs on Jeep, Ram, Chrysler, and Dodge cars across Roseville, Minnesota. You can simply give us a call to book your vehicle in, or you can make use of our online service scheduler.
When To Schedule a Car Service
While you'll have regular maintenance as part of your car's service plan, which may occur every 12,000 miles or 12 months, there are also times when you need to include extra repairs. Therefore, it helps to know how often to perform the following service types:
Tire Changes
While tires have a life span of around 60,000 miles or three to five years, you may need to change them sooner. Inspect your tires regularly to see if there's any aquaplaning or visible damage to the tire or tire wall.
Oil Changes and Fuel Levels
An oil change is an integral part of the overall health of your car. Failing to carry out routine oil changes can impact the performance of your vehicle and damage several components. When you don't change your oil regularly, it can result in sludge, which is a dreaded term in engine health. Regular oil changes ensure a smooth-running engine. They should be performed every 2,000 to 3,000 miles or every six months.
Oil isn't the only fluid that needs to be checked. Water, coolant, brake and gearbox oil, and power steering fluid are all important in ensuring the longevity of your car. These levels need to be checked regularly. During services and repairs, mechanics often drain and flush the system and completely replace the fluids.
Cleaning Out the Filters
There are four types of filters to be aware of—engine air, cabin air, oil, and fuel. While these should be changed every year or so, any damaged filters need to be replaced immediately. Filters work to keep large particles from entering the vehicle's operating system. Fuel and air filters ensure that particles don't circulate through the car and cause damage to the engine components. Air filters ensure that dust and other harmful particles don't flow through the car.
Brakes
Brakes play an important role in keeping you safe on the road and should receive regular attention. Brake pads need to be changed every 12,000 to 15,000 miles, but you may need to replace them sooner if the brakes are noisy or cause shuddering when pressed. However, many car owners remember to check their brakes and forget to care for the other brake components.
Rotors are part of the brake system and need to be checked to ensure a healthy operating system. These need to be replaced every 50,000 to 70,000 miles, depending on the state of the brakes and brake system.
Suspension Care
A worn-out suspension will not only cause a rough ride but may also lead to a sluggish response. If the car feels bouncy or hard over speed humps, or it dips on the nose when you apply the brakes, there's a good chance the suspension is worn. If there's uneven wear on the tires, you may also have a worn suspension. A trusted mechanic should inspect the suspension every 15,000 miles, especially when they're checking your brakes.
Battery Checks
When you're rushing to get to work or the kids to school and your car doesn't start, it can spoil your week. While there could be other reasons why your car didn't start, a flat battery is usually the culprit. This can be due to the age or condition of the battery. It could also indicate that there is an alternator issue. A battery check confirms whether there are dead cells and approximately how much life a battery has left. A mechanic can also inspect whether the terminals are corroded or if it's at the end of its life.
Wheel Alignment
Wheel alignment is important for a smooth ride and to stay safe on the road. When the wheel alignment is off, it can indicate that there are underlying problems, such as tire or steering wheel issues. It's time to book a wheel alignment appointment if the car pulls to one side when you're driving on a straight road or when the steering wheel doesn't return to the center after going around a bend.
Our Parts Department
You can be assured that we use the very best parts to perform our services. At Jeff Belzer Roseville CDJR, we use Goodyear tires for tire changes and original equipment manufacturer (OEM) parts and Mopar Performance Parts. We also offer OEM and Mopar accessories.
Book Your Next Car Service With Us
At Jeff Belzer Roseville CDJR, we have a wide range of services:
Tire changes.
Oil changes.
Multipoint vehicle inspections.
Filter changes.
Air conditioner inspections.
Battery charging system tests.
Cooling system service drain or replacement and more.
Keep an eye out for our MOPAR service and parts specials to take advantage of great prices. Contact one of our service technicians for your next service and keep your car in good shape.
Car mechanic working on a car's electronics. by Maxim Hopman is licensed with Unsplash License
Jeff Belzer Roseville CDJR
Is Located At:
2805 LONG LAKE RD HWY 35W & COUNTY RD C, ROSEVILLE, MN 55113
Get Directions